Neonatal jaundice management in developing countries
Although there is still much we can do to improve the management of jaundice in High Income countries, it is true that kernicterus, in this area, is now very hard to come across.
Technological advancement and economic stability make it easier for doctors to follow newborns in their first weeks of life. Even though the procedure should be improved.
In countries of the South of the world that are part of Low-Middle Income Countries, jaundice is a very difficult problem to tackle.
Structural and economic barriers make the situation far more worrying. In these areas, timely intervention, affordability and portability are crucial.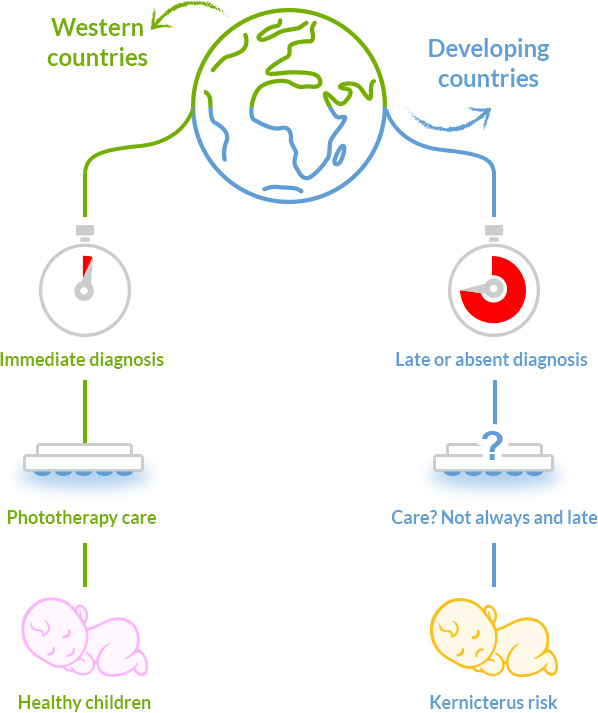 Affected Areas
In Africa, Southeast Asia and South America, there are many obstacles to achieve proper neonatal care management, including limited availability of diagnosis and care equipment.
Partnership
In order to make an impact and improve the situation in Low-Middle Income Countries it was important to create a strategy that worked on different levels and that could combine our diagnosis device with portable phototherapy treatment and educational programmes.

Getting Back
We have found the solution to eradicate Kernicterus. Now the only thing missing is implementing it all over the world. We are working towards building a strong network to make it happen and your help is essential to make our dream come true.
Contact
Should you be interested in purchasing a Bilistick® System or in receiving further information about the product and the company, please send us a message by filling out the following form.